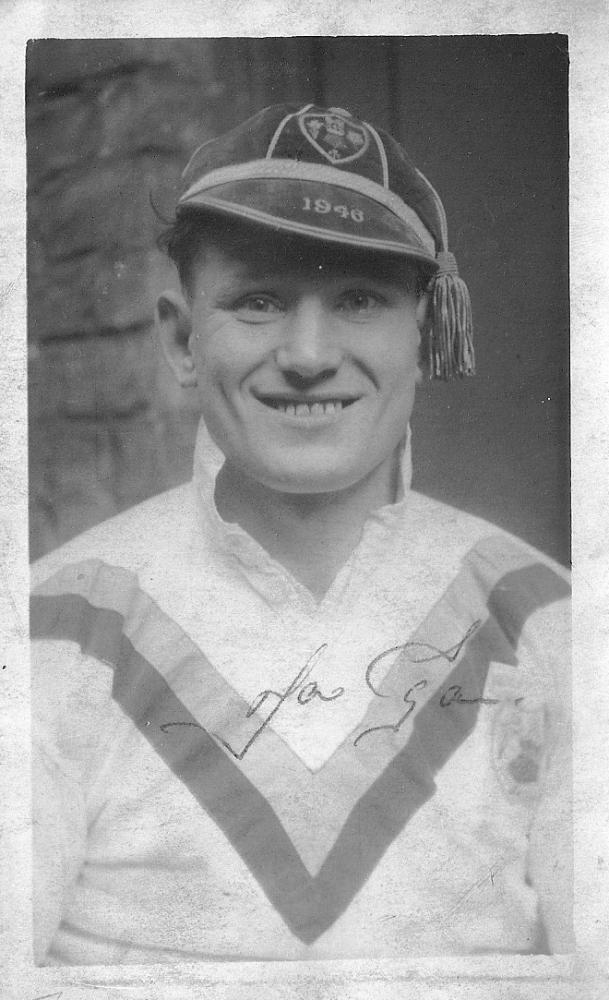 Last week we have heard the sad news that Joe Egan had died, aged 93. Joe was a legend of our club known by many and loved by all. The quick stats and facts that you will find will tell you that Joe was the Captain of the Wigan club and made 362 appearances for Wigan from 1937-1950. Amongst many things, he was Great Britain's first choice hooker during their "Indomitables" Tour of Australia and New Zealand and won 14 caps. Another popular fact was that Joe was the first Captain to receive the Challenge Cup Trophy from a reigning monarch (George VI) during the 1948 Cup win over Bradford Northern at Wembley.
Impressive stuff but he seems to be almost forgotten. At the time of his death he was 93 and the only surviving member of that Indomitable team that has gone down in history. Egan was Wigan through and through and a product of the World Famous Wigan St Patricks Amateur club which have seen many stars of the game appear over the years.He started out as a fullback with St. Pat's but quickly ended up as Wigan's hooker in the first team. He was also handy at loose forward.
To get away from this turning into an obituary I shall stop. Facts and achievements can be seen elsewhere. At the time of his death, there was no fanfare in the media, save local press. To many, it seems that Joe Egan is simply a name who played long ago and appears in record books and Wigan's Hall of Fame. Older generations will have remembered watching Egan play as children with experiences staying with them until this day. In time Egan will be just a name to many to rank alongside Johnny Ring, Jimmy Leytham and Billy Blan. As the older generations disappear so to will the memory of these fine players. It is sad in a way. The Wigan RLFC we see today would not be as Great without the likes of Joe Egan. The pioneering spirit and romance that he and many others gave have made us become the Greatest club in the world. He and many others were superstars of their day, perhaps not nationally - being rugby league - but certainly locally. These were the days when the rugby club WAS the town. I found a quote recently by Joe which he said
"I was also a wartime fire watcher at the top of
Rushton
's store and one night the chief said I should keep my eye on the Wigan scene in general and not just the Central Park Rugby League ground." Another quote I shall nick from a Telegraph newspaper piece is this:

During the war Egan worked as a brass moulder — a reserved occupation — at the Naylor's foundry and also served in the Home Guard: "We used to march through Wigan on a Saturday and by this time folks recognised me," Egan recalled. " Kids would run alongside asking if Wigan would win in the afternoon and I had to tell them to buzz off.
It may seem nothing to many but to me, this sort of stuff is what Wigan RLFC is about. Joe Egan and countless others too 'back in the day' had a real love for Wigan and the game which in my view is a fantastic reason why Wigan RLFC is what it is today. To last to 93 years of age is some achievement in itself! Joe became a life member of the club and rightly so. He still attended matches now and then but not of late. Joe's family should hold their heads high as in my view he should rank alongside the likes of Billy Boston, Ellery Hanley and Shaun Edwards as the men who define Wigan.
In a recent poll to determine Wigan Team of All Time, Martin Dermott won the #9 jersey, ahead of Egan. Yes, it is true to say that if they played eachother, Dermott would probably be fitter, faster and more skillful in more or less every department. Many voters suggested that why should they vote for a player they had never seen play? This is very sad in my eyes. A Great team isn't necessarily the best players. I am sure if Joe Egan received the same training, science and diet Dermott had he would be a better player. Nobody takes into account inflation, the changing of time and the changing of the game. It is things like this that make Great men be forgotten. To add, Terry Newton was second in the poll and even Jim Sullivan didn't get the fullback jersey and that to me says it all. A Great Wigan team without Egan and Sullivan? Ignorance and the lack of education I think is to blame.
Joe Egan shall be remembered for all time by those who will make the effort to champion them, and for those willing to remember them. He is what Wigan RLFC is today and for tomorrow. To me, there has been no better hooker playing in a Wigan jersey and probably, there perhaps never will be.
Thankyou Joe for everything and take care. You will be remembered.